Online Tea Girl Gift Certificates
08002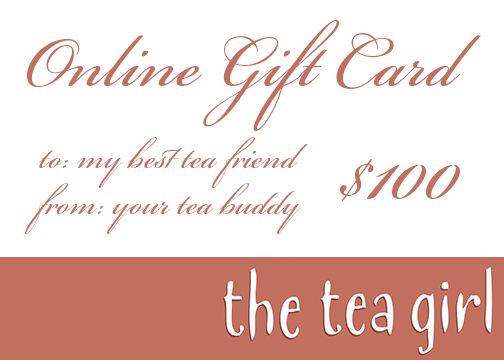 These are the perfect gift for your friend or loved one that you don't know what to get, but loves our teas! Purchase these gift certificates online, and we can email the recipiant with a electronic gift card directly! Gift Cards have no expiry and may be used towards any purchase online. No cash value and no returns.
Each selected certificate will be printed as the selected value, and must be used in one purchase. If you would like smaller denominations in multiple certificates, please purchase individual smaller coupons. Only one certificate is redeemable at once.

Monthly Tea Sampler
We have begun offering a monthly tea sampler where you get 5 new tea samples mailed out to your door!  Your monthly samples will be on rotation, and may include any of our tea or infusion selections. Please let us know if you have any special requests. Each sample contains enough for 2 cups of each flavour, or one small pot. Great for a gift or to try new teas yourself!
Subscription tea samplers will be shipped out the first week of each month.
Priced at $15 per month, includes free shipping in Canada, and only ships within Canada. Can be cancelled anytime. No refunds once samples are shipped for the month.